I made this bag for myself for my birthday. Just a little bit of selfish sewing!
This is the Madison Hunting Bag designed by ithinksew. I got the pattern in ithinksew's early summer sale, in a bundle with the Beckett Backpack, which I hope to also make sometime soon.
The bag is large but not enormous. I like using it as an everyday purse. It holds a lot without being heavy or cumbersome.
I used real leather for the trim, and the exterior is Spoonflower Eco Canvas in the "Mythica" print by nouveau_bohemian. I love the cute fairy animals! I tried to feature all of them in different places on the bag. I still have some of this fabric and plan to make a few things for the shop with it.
I did end up shortening the flap straps after the bag was nearly done since I did not like how the hardware overlapped. Fortunately, I used Chicago screws to attach the straps, so I just unscrewed them, shortened the strap, punched new holes, and screwed them back on. Very happy with it now!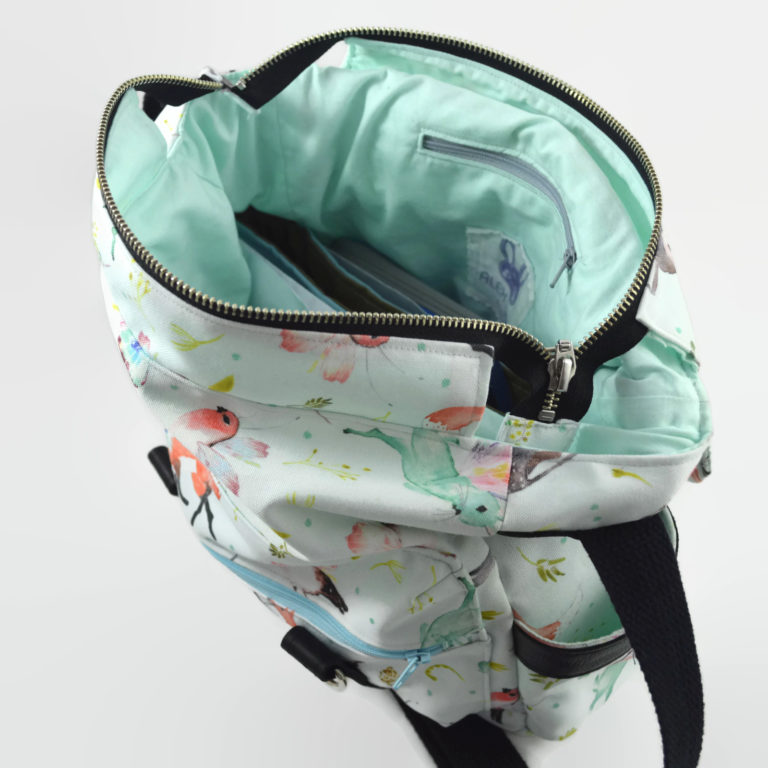 I really like ithinksew's patterns. They have so many designs and so many styles, it is a treat just to browse the website. The Madison Hunting Bag is a great design, and the instructions are good, but I did find it confusing at points, particularly when it came to the front pocket. It was also unclear whether to topstitch around the opening of the bag on top of the zipper gusset or underneath it (I ended up just sewing underneath it in order to reduce the number of layers to sew through). Additionally, the photos are small so it can be hard to tell what is happening in them sometimes.
I would absolutely recommend this pattern if you have bag sewing experience or are looking for a challenge. The results are certainly beautiful!
If you are interested in a custom Madison, feel free to contact me at my Etsy shop!